The Best in Creation Titles!
• Format: Region 0 (All Regions Worldwide)
• Recommended if you are interested in exploring Evolution versus Creation
Scroll Down To See All Selections
The Evolution Of A Creationist
Jobe Martin, D.M.D., Th.M. - 5 PART VIDEO SERIES
5 Part - 3 DVD Set

For years Dr. Martin wrestled with the conflicts between evolutionary theory and the Bible. As a scientist, he was sure he knew the answers. But then his faith, as a Christian, completely changed his life.In this video series, Dr. Martin will point out the distinct differences between evolution and creation. He will take a look at animals that break all the evolutionary 'rules'. He will examine the many problems with evolution and show why the Bible is an excellent source of science.

Session 1: "Evolution or Creation... Does it Really Matter What We Believe?" (60 min)

Session 2: "Fact or Fraud... Is Evolution Evolving?" (56 min)

Session 3: "Cause or Coincidence... Did Earth Begin With a Purpose or Probablity?" (50 min)

Session 4: "How Young is the Earth?" (65 min)
Session 5: "Current Discoveries Update
The evidence piles up: dinosaur blood, young diamonds, and more evidence of the Flood!
Regular Price- $50.00
Discount Price - $39.77
---
Join Dr. Jobe Martin and Dan "The Animal Man" Breeding on a wild animal adventure. You will come face-to-face with some of the world's most fascinating creatures - they are ferocious, mysterious, at times hilarious, and always miraculous creations of God.
* Gibbons - The World's Greatest Acrobat
* Baboon - The World's Largest Monkey
* Aye-Aye - Madagascar's Midnight Hunters
* Hissing Cockroaches - Giants of the Insect World
* Nudibranch - God's Rainbow of the Sea
* New Zealand''s Wonder Weta

Teachers Love It! It's easy. flexible. and fun. Choose a chapter and study one creature at a time. or "Play All" to watch the entire video from start to finish. Students will learn, laugh and be amazed as they discover how Creation Proclaims the Creator. An excellent video for: Schools - Science, Biblical World View, Apologetics and Creation Classes Churches - Sunday School, Bible Studies, VBS, Sermon Illustrations Homes - Families, Friends, Personal Study Coming Soon:
Regular Price - $19.95
Discount Price - $15.96
---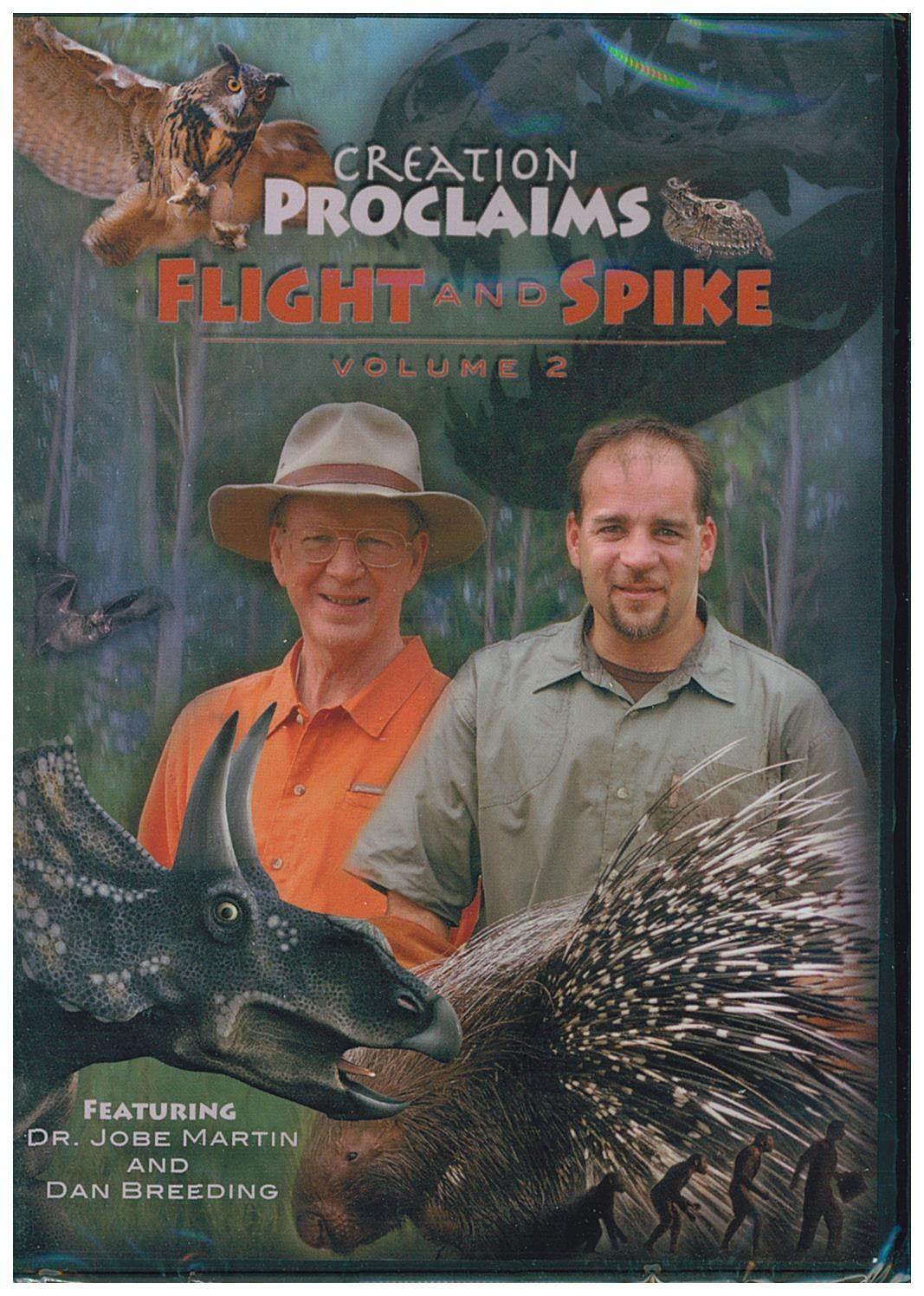 Join Dr. Jobe Martin and Dan "The Animal Man" on a spectacular journey from deep inside the earth… to jungles and deserts… and to the farthest reaches of space.

In Creation Proclaims: Flight and Spike you'll discover how creation is proclaiming the character, majesty, power, and glory of our Creator-God, the Lord Jesus Christ. In each feature, you'll learn how God is reaching out to mankind in unmistakable ways by making Himself known through:
• Owls – The Silent Raptor
• Bats – The Mysterious Flying Mammal
• Dinosaurs – The Kingly Beast
• The African Crested Porcupine
• Horned Toad Lizards – The Desert's Thorny Reptile
• Naica Crystals – Mexico's Crystal Palace
• Earth – Created for Life

So grab your night vision goggles and telescope, and get ready to encounter God through the wild wonders of His creation. You'll be inspired through Biblical insights and invigorated by the adventure!

Regular Price - $19.95
Discount Price - $15.96

Join Dr. Jobe Martin and Dan "The Animal Man" on a wild animal adventure. You'll come face-to-face with some of the world's most fascinating creatures--they are ferocious, mysterious, and at times hilarious. In Silent Hunters, you'll discover how Creation Proclaims the character, majesty, power, and glory of our Creator God.

In each creature feature, you'll learn how God is reaching out to mankind by making Himself known in unmistakable ways through: Aligators, Archerfish, Boa Contrictors & Pythons, Mountain Lions and Rattlesnakes. Extra Features: Silient Christians by Mike Riddle, Molecular Biology in Creation by Harvard grad Nathaniel Jeanson Ph.D. of ICR, and Apologetics for Creation by Dr. Jobe Martin and Dan Breeding.

So, grab your camera, pull on your hat and boots, and get ready to encounter God through the wild wonders of His creation. You'll be inspired by the Biblical Insights and invigorated by the adventure!

Regular Price - $19.98
Discount Price - $15.96

All Three Volumes, Dr. Jobe Martin, DVD



Climbers & Creepers, Volume 1
Flight & Spike, Volume 2
Silent Hunters, Volume 3

Regular Price $59.85
Discount Price - $34.89
---
Another Popular DVD Set by Dr. Jobe Martin:

Incredible Creatures That Defy Evolution - 3 DVD set
Join Dr. Jobe Martin for a study of scientific oddities within the animal kingdom.
By examining the design of animals that fall outside evolutionary lines, the program asserts a strong thesis of creationism.



Volume 1:
• Bombardier Beetle • Giraffe • Woodpecker • Australian Incubator Bird • The Chicken Egg • Platypus • Black & Yellow Garden Spider
• Gecko & Chuckwalla Lizards • Human Eye & Ear Drum
Volume 2:
• Whales • The Pacific Golden Plover • Dragonflies • Hippopotamus • Glowworms and Fireflies • Bears
• Earthworms • Elephants • Education Dishonesty section • Sparrow
Volume 3:
• Lampsylis Mussel • Horses • Ostrichs • Hummingbirds • Vestigial Organs • Dogs • Manatees • Elephants
• Butterflies • A section on designs and designers • Cuttle Fish • Penguins • Milopina Bee and vanilla

Regular Price $68.85
Discount Price $39.96

Winner International Telly Award
---